RAPTOR WATCH WEEK 2006
by Lim Aun Tiah
(Hon. Chairman, RWW 2006 Committee)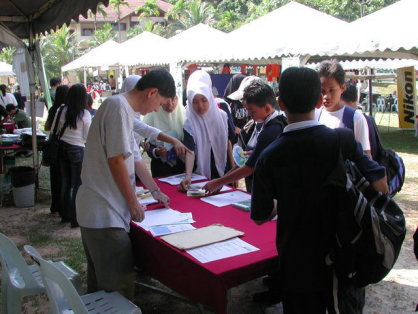 This yearfs Raptor Watch Week, the seventh since its inception in 2000, was held on Saturday and Sunday, 4th and 5th March 2006 at Ilham Resort, Tanjung Tuan, Melaka.
Apart from popular activities such as raptor face-painting, raptor migration board-games, talks on raptor migration, bird watching, raptors of Thailand and digi-scoping techniques, there were guided walks to familiarize the public with Tanjung Tuanfs forest ecosystems and coral reefs along the coast.
This yearfs Raptor Watch Week is especially significant because it marked the beginning of collaboration between Malaysian Nature Society and the Asian Raptor Research and Conservation Network (ARRCN) on raptor studies. ARRCNfs representative Mr. Yasunori Nitani attended the two-day event and exhibited ARRCN research material and raptor photographs.
For the past seven years, Raptor Watch Week has kept to its main objective of raising public awareness of environmental issues and raptor conservation. Particular emphasis is given to the promotion of environmental awareness among school students because MNS wants to ensure that Malaysiafs future leaders are adept in handling not only political problems but also environmental issues. More than 25% of RWW 2006fs budget expenditure was spent on sponsoring 96 secondary school students to attend a 2–day nature education and environmental awareness camp at Ilham Resort.
This year, MNS members and volunteers have again responded splendidly to the societyfs request for manpower support. Hongkong and Shanghai Banking Corporation, the eventfs main sponsor, came forward to generously provide funding for the event. Other minor sponsors included Leica, Swarovski, Nikon and BP Petroleum. The raptors must have heard the organiserfs prayers, because they arrived in large numbers at Tanjung Tuan lighthouse and Ilham Resort at around noon on both days. The raptors gave many visitors an impressive view of raptor flight and formation–flying, sometimes descending to as low as 20m above the ground.
Raptors arrived between 1000hrs and 1400hrs, peaking at around 1200hrs on most days. This year, RWW organizers introduced a 14–day observation of raptor movements. Teams of observers carried out observations one week before and one week after the 4th & 5th March public event. From this 16-day count, a total of 18,903 raptors were recorded. Of this total, 99% were Oriental Honey-Buzzards Pernis ptilorhyncus. Small numbers of other species such as Grey-faced Buzzard Butastur indicus, Chinese Goshawk Accipiter soloensis and one Osprey Pandion haliaetus were sighted. Weather condition was sunny, with stable atmospheric pressure. However, visibility was poor because of moderate haze covering the Straits of Melaka.

Photo: Lim Kim Chye
---
Raptor counts at Tg. Tuan lighthouse (inc. PD Marina tower and Kg. Seginting on 4th & 5th March)
O. Honey-Buzzard

Chinese

Goshawk

Grey-faced

Buzzard

Osprey

Unid.

Accipiter

Unid.

raptor

Grand

total

Date

25/2/06

415

7

1

26/2/06

20

17

27/2/06

107

28/2/06

471

1/3/06

1643

50

2/3/06

256

1

3/3/06

443

4

4/3/06

3204

2

1

5/3/06

1211

6/3/06

2004

7/3/06

2093

8/3/06

352

1

9/3/06

1362

10/3/06

1046

1

3

11/3/06

2764

1

1

12/3/06

1421

1

Sub-total

18812

8

1

1

11

70

18903
---
Photo Albam